Explore Roatan by Horse Back
This unforgettable and varied tour is predominantly on the beach in Sandy Bay. You will see mangroves, trees that live right in the ocean and are the nursery for many of ocean creatures, and ironshore (coral reef that emerged from the ocean centuries ago). You can walk, trot or gallop (depending on your riding ability) over a long stretch of secluded beach, with palms and pines on one hand and the crystal ocean on the other. Along the way, you will see a myriad of fruit trees - almond, cashew, banana, coconut, seagrape, guava, mango, papaya, to name a few.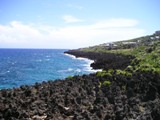 The tour will also take you through a residential area, where the street is lined with flowering shrubs - hibiscus, mandeville, bougainvillea, oleander. Keep you eyes open for lizards, iguanas, and birds such as parrots, frigate birds, pelicans, and woodpeckers. The tour lasts 1 1/2 hours.
The price is US$45 per person, unless you would like to be guaranteed a private ride where the price is US$60 per person.
The tour described above is our standard tour and is suitable for all riders, from the first time rider to the highly experienced. It is possible to change the tour to visit the mangroves, ride through the jungle, or do a beach only tour. These options will depend both on weather conditions and the riding abilities of all people on the tour. Please discuss any changes to the tour with the guide at saddling-up time.